Our Services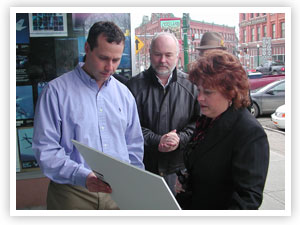 Thoma provides a wide range of services to municipal and non-municipal customers through a diversely qualified staff. We have the ability to take a project seamlessly from concept, planning, and funding, through to implementation. We utilize a team approach in providing our services, drawing from the varied skills, abilities, and experiences of individual staff members, and partnerships with outside experts, to develop customized solutions to meet our customers' needs. We are comfortable providing services of vastly different scales, from securing funding for municipal records management for a small rural township, implementing a housing rehabilitation program for a waterfront Village, to undertaking the creation of a county-wide strategic plan for economic and community development.
Please follow the links to find more information about the specific services we offer. If you don't find exactly what you're looking for, contact us to discuss your needs. We believe that our best advertisement is our customers, and we encourage you to contact our references.
Team Thoma can help you build a better tomorrow for your community.